Logo
Before downloading our logo, please read the usage guidelines below.
By downloading the logo, you commit to follow the guidelines.
Always leave a minimum clear space around the logo.
The illustration shows the minimum clear space needed.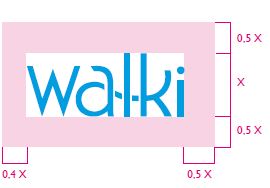 The logo colour is Walki Blue.
CMYK: C 100
Pantone: Process Cyan C (coated), Process Cyan U (uncoated)
RGB: R 0 G 158 B 225
RAL: 5015
NCS: S1560-R90B
In material printed in black and white a black logo can be used.
When the Walki logotype is placed on a dark background, a negative version is used.
The minimum size of the Walki logotype in printed communication is 6 mm in height.

Jpg logo for printed material
(jpg, 170 KB)
Jpg logo for digital material
(jpg, 85 KB)
Eps logo for agencies
(eps, 341 KB)
Walki Product pictures

When using some of the pictures below the source should be mentioned.

Technical Products
(JPG, 1 MB)
4E Technology
(jpg, 7 MB)
4E Technology
(jpg, 9 MB)